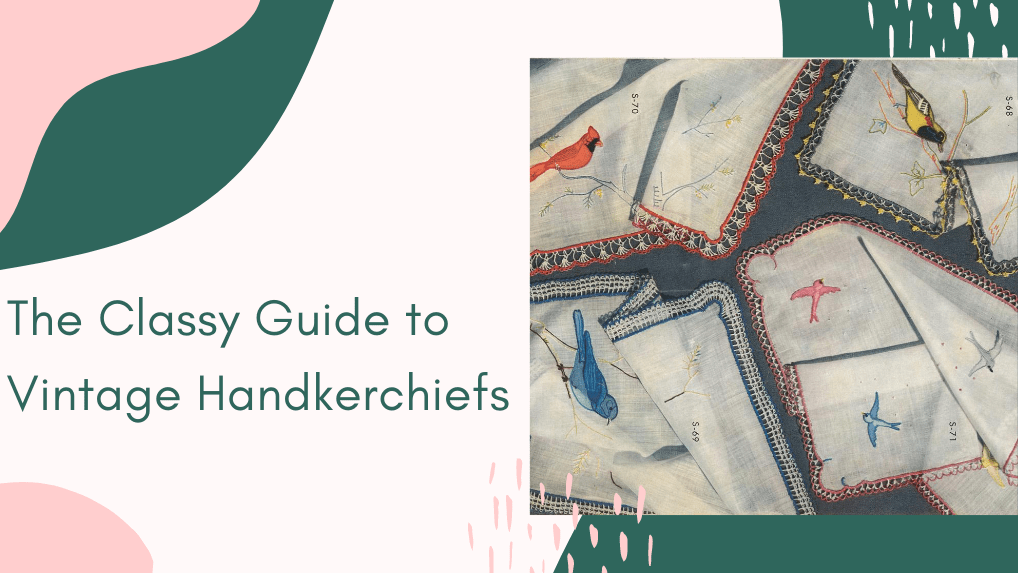 Not too long ago, everyone had a handy-dandy vintage handkerchief, but those old-time hankies don't need to be antiques off a shelf, there are plenty of ways to give life to a stunning hanky without it having to feel like a fragile hand-me-down from grandma's grandma…
Vintage handkerchiefs are dainty, pretty but also decorative and functional. They might have some stunning embroidery and patterns that could bring a DIY to life or bring a splash to your home décor.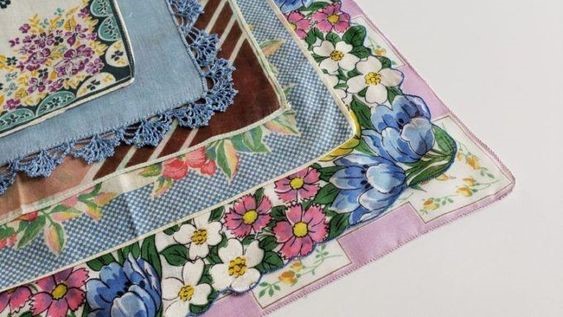 Are old handkerchiefs worth anything?
Besides sentimental value… it depends.
Collectors and crafters will be the one's willing to fork out on antique handkerchiefs but it very much depends on the hanky in question – age, condition, type all factor in.
For something special you can potentially sell from $10 all the way to $50 as this example attests:
An antique, white-on-white edged with hand-tatted medallions. A bridal heirloom once converted to a christening cap, it later was used by the original owner's great-granddaughter as her bridal handkerchief, and has a value of $40 to $50.
What can I do with vintage handkerchiefs?
So what does one do with the frills and embroidery? Well, treat it like fabric!
The first goodie on this list is using it as a fabric square. You can use vintage hankies to make anything that would require some bits and bobs of fabric, a baby burp cloth, a small pouch or a decorative pillow or even a lovely quilt.
Speaking of which, look no further than this guide to turning your vintage hankies into a gorgeous quilt. I know what my next DIY project is!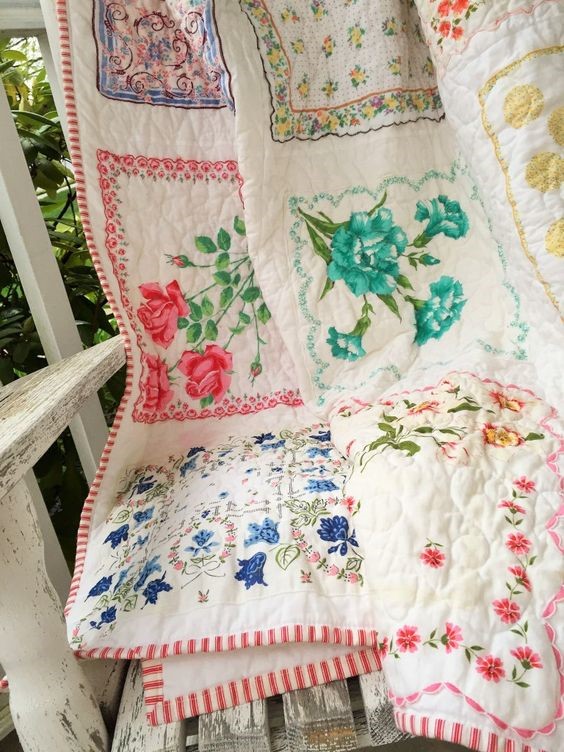 Whatever you intend to craft, just think creatively. You can sew a hanky on the front of a pillow to give it some style or cut out the embroidery bits for smaller details on an existing cover. The same goes for anything in your house that might need some snazz, including the collar of your shirt. Feel free to use the same method on table clothes, curtain, towels and even kitchen cloths.
To make a small pouch, you can just look up a simple drawstring pattern and turn that vintage square into a retro jewellery bag. This is a straightforward beginner sewing project if you are looking to venturing into a hanky gift or even just a new hobby.
There is obviously a reason why handkerchiefs were such great hits; they are perfect for everyone in the family. It can be a pocket square for dad or even a baby burp cloth for the little one. Luckily, both of these require no changes to the original Hanky, but if you like you can stitch a small towel to the back of the hanky to give that burp cloth some extra thickness or as I like to call it, damage control.
For larger items such as the quilt, you might need a few vintage handkerchiefs. Luckily we are about to get into that. Surprisingly, it is not that hard to find vintage hankies…
Where can I find vintage handkerchiefs?
You can actually very easily find vintage ladies handkerchiefs or vintage fabrics on craft markets and online stores such as Etsy or eBay. This is often where people sell their own if they don't know what to do with them or if they are just people that used to collect them, so you could put together quite a shopping basket.
If you want to turn this into a bit of an adventure, look up the closest thrift or charity store to find some hidden treasure in between all the boxes and rails, who knows, you might even walk out with a nice coat. Local markets are another great source so next time you're spending a lazy Sunday at the market, keep an eye out for an eye-catching antique handkerchief that could be the star of your next craft project.
How do I wash and care for a vintage handkerchief?
If you did pick up your hanky from a stranger or a second-hand shop you might want to give it a bit of a clean first before you turn it into a doily. Vintage fabrics tend to fade over time, they might be a bit yellow, but don't let that worry you! Even some good aging in a storage box can cause discolouration.
Luckily there are easy ways to clean it that don't include dropping off a tiny hanky at a dry-cleaner.
First of all, don't bleach your vintage hankies! Bleach will only weaken the fibres of your already antique fabric. Instead, you can mix together equal parts of baking soda, white vinegar and some peroxide and gently rub it into the fabric. If you need to get some tough spots out, gently brush then with a toothbrush. Once this is done, give it a good cold wash and let it dry in the sun.
If that doesn't work many swear by using fresh lemon juice and salt on the stain and then once again waiting to dry, giving it a cold wash and (hopefully) your vintage hanky will now be strain-free.
What about ironing?
Once again, gentle is the word of the day. Wet the hanky a little, and a mild heat – just enough to press it properly should do the trick. For vintage embroidered handkerchiefs, always iron with the embroidery facing down – ideally with an ironing board that has some nice cushion to it.
Sometimes the best use is the most obvious
While we could spend all day talking about ways to upcycle this vintage token, there is no reason why you can't use it for its original purpose? Keep it in your pocket to whip away those tears when the bachelor picks the wrong girl, or if one of the kids has a runny nose.
Just remember to also keep a HankyBook in your back pocket for more serious "spills."😉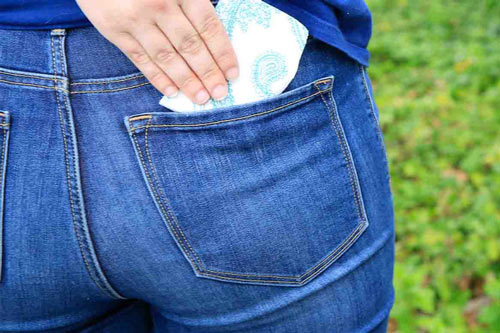 Take it from the Handkerchief Lady: one day your HankyBooks will also become treasured keepsakes!
Summary
With that being said, vintage handkerchiefs can be quite fun, whether you appreciate sentiment or just enjoy some simple DIY. So don't be scared to jazz it up and use it around the house, this vintage fabric has clearly passed the test of time, so don't be afraid to give it some modern, 21st-century love.